CSM Corporation dba Midland Claims Service, Inc.
Industrial Injury Claims®
One State. One Mission. Three Generations. Six Decades of Consistent Results.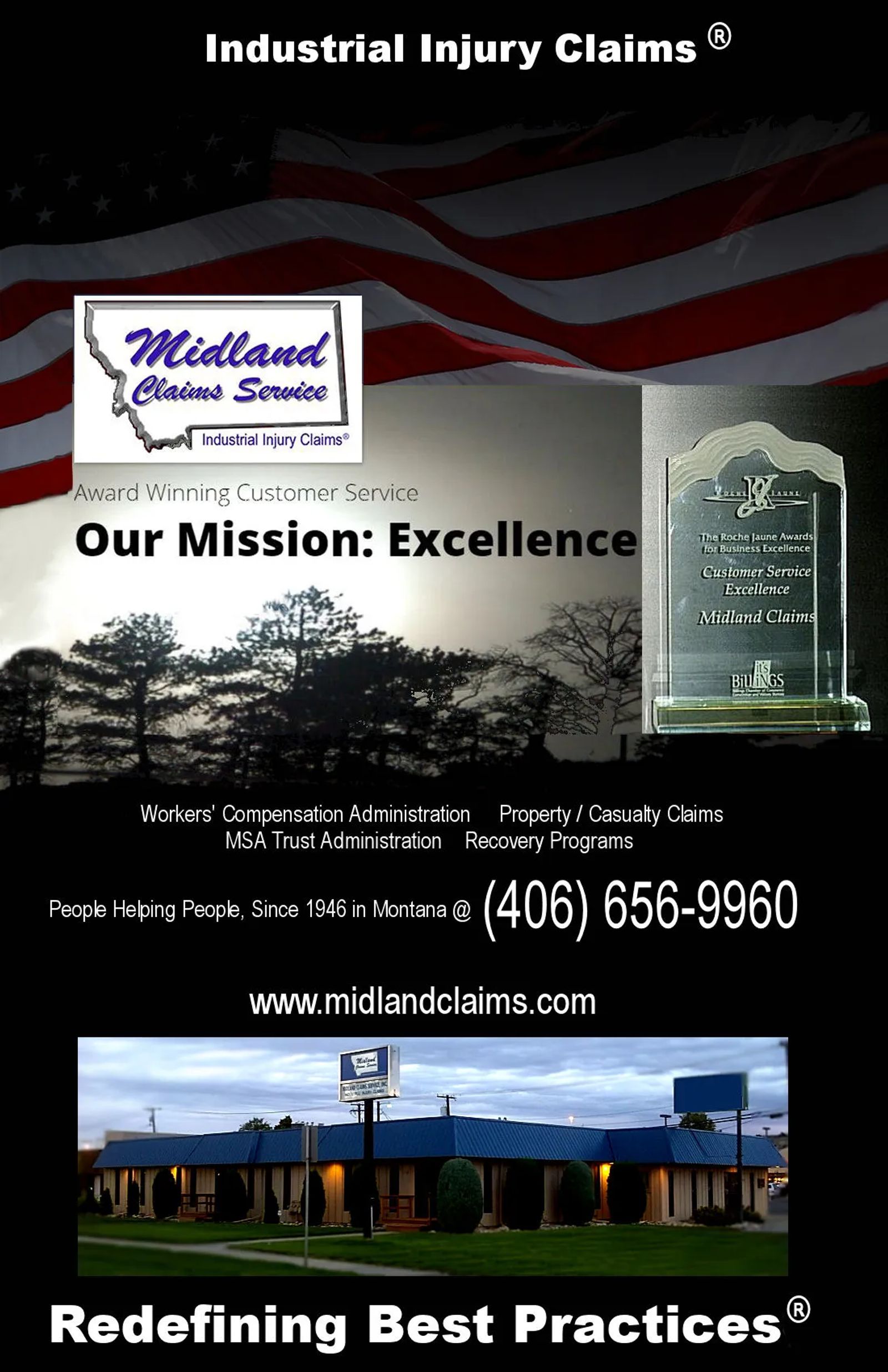 History
Early Years
MCSi began operations in Billings in the mid-1940's. The first written records we have in our possession indicate that in 1954 the company was actively operating as an independent adjusting company in Billings , becoming incorporated in 1956. The company was purchased by James A. Marsh in 1963, and was operated under his leadership until 1999.
Second Generation
Michael J. Marsh, James' son, purchased the company when he returned from the California insurance market to Montana with his family in 1999. MCSi purchased Industrial Injury Claim Service in mid-2001, with IICS's owner Judith Hosford remaining with IIC® through her retirement in 2019. James Marsh remained as a member of the company's Board of Directors and special Advisor.
Pivot
For decades, MCSi provided Independent Adjusting ("IA") services on behalf of insurance companies and Managing General Agencies ("MGAs"). Claims handled were typically 75% Property, 20% Liability and 5% Workers' Compensation *by claim counts. In the 1980's, the company had offices in six Montana cities as well as Spokane and Seattle WA. Through a series of events, it was decided that the company would pivot more towards a single state specialist in Montana workers' compensation claims.
Since 2001, over 98% of the claims handled by our staff are Montana workers' compensation claims, making MCSi among the largest workers' compensation claims Third Party Administrators ("TPAs") doing business in the state.
Third Generation
After more than a decade as a licensed producer for two nationally recognized insurance agencies, Lauren Marsh, Michael's daughter, joined MCSi as Director of Marketing and Administration in January 2022. She passed the Workers' Compensation Examiner Certification testing. Lauren is a Certitied WC Examiner and a CPCU. She serves on the Board with Michael and James.
Moving Forward
Industrial Injury Claims® Workers' Compensation Claims
Industrial Injury Claims Service was a Montana-only workers' compensation claims company operated for years by Judith Hosford. Our acquisition of Industrial Injury Claims Service in 2001 was the first step for our successful pivot from a more generalist P & C Independent Adjusting firm to a workers' compensation specialty claims organization. The workers' compensation operation was renamed Industrial Injury Claims® and was awarded a federal Trademark.
The secret sauce was, and remains to be, our amazing Workers' Compensation Claims Examiners. These folks are not 'button pushers', they are trained and experienced in engaging with recovering workers, focusing every effort towards the workers' recovery and Return To Work ("RTW"). Unlike many so called "Best Practices" which have CEs working remotely or from home, our professionals still work in an office ... and ... IMPORTANTLY ... meet face-to-face with nearly all of the recovering workers that have claims with our partner organizations. Our Claims Examiners are licensed in Montana and have been trained and maintain Continuing Education ("CE") on one of our core philosophies: Humanize the Workers' Compensation Process.
Focused Specialization - Actual Results
With our focused specialization in handling claims in only one state, one set of laws, we have achieved a higher level of efficiency. Higher efficiency has led to additional time for Claim Examiners to more fully engage with recovering workers and achieve higher claim closure rates and decreased cycle times. Litigation rates have also dropped significantly for our clients, remaining consistent at 1.5% across 34,400 claims administered under our management. The numbers support our belief that client payer organizations (insurance, governmental or self-funded programs) receive significantly reduced total program costs when working with a single state specialist. For all but one of our clients, we are a "carve out" from their other agreements national in scope.
The chart below shows the IIC average cost per Indemnity claim compared to the NCCI loss cost figures and the MSF average cost across the periods 2006 through 2019. The IIC client numbers have not been adjusted to reflect incurred or actual recoveries for Excess WC insurance, SIF or other offsets.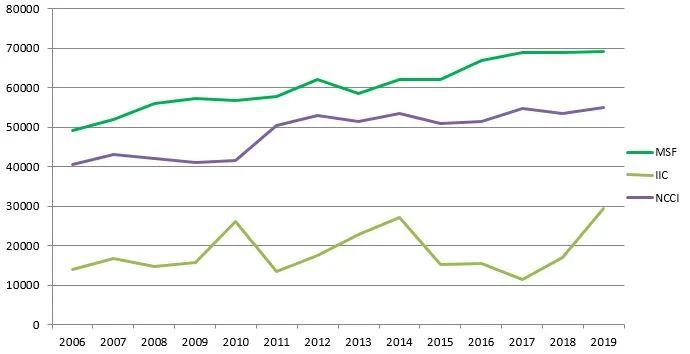 Total combined costs for Indemnity claims has historically documented to be less than 50% than the largest insurer in Montana and NCCI loss cost filings. Our process, which may have a slight higher unit TPA cost than others, using humanized, engaged, caring stakeholders, results in earlier Return To Work ("RTW"), reduced cycle time and ultimate loss costs far less than peers across all class codes.
To enhance our offering, ensuring the highest quality of service and reduce expenses, we utilize advanced-stage, mature and proven computer hardware and software. The company provides internally developed activity and financial reports to its clients from its multi-Tb cloud database, ensuring timely and accurate delivery of the nature and depth of information that Montana insurance and self-insured companies need for their budgeting and decision making.
Our primary focus since the mid-2000's has been self-funded workers' compensation programs. Montana is a challenging workers' compensation jurisdiction. There are stringent privacy laws, case law that essentially invalidates all potential subrogation, case law which significantly limits a self-insured to participate in the workers' compensation claims process and, importantly, except for underwriting purposes, self-insured organizations and their agents / brokers cannot even know what the action plan or remaining reserves are on specific claims. We have addressed these issues by setting expectations and building upon those with verifiable results.
Philosophy
Achieving superior results begins by having the correct philosophy of how and why claims services are provided, and building the right team.
Importantly, we believe that the philosophy is the most important place to start and must be communicated and emphasized consistently for a service organization that administers millions of dollars in benefits to injured workers . MCSi's philosophy in the claims industry includes:
consistency
honesty
integrity
professional conduct
continuing education
and the highest regard for the needs of both its client companies and the injured workers
This same approach has been in place since the 1950's, and has been a key factor in acknowledgement of the company nationally as one of the best independent claims adjusting and Third Party Claims Administration services available. The company doesn't just follow best practices, we are
Redefining Best Practices®
Team
The concept of "team" is the company's primary guiding principle. "Team" is applied holistically, across all facets of the operation, from the relationships that we enjoy with our partner WC client organizations all the way down to internal issues as trivial as "who's going to empty the garbage today".
While many organizations advertise and talk about team-oriented concepts, the company has taken the implementation of "team" to a higher level. This has resulted in higher level efficiencies and magnitudes of improvement in ultimate claim outcomes over similar claims administration companies and insurance companies in the workers' compensation field. Efficiencies and improvements are important; MCSi is responsible for self-insured incurred losses in excess of $150,000,000 in WC benefits for more than 34,400 injured workers' claims through January 31, 2022.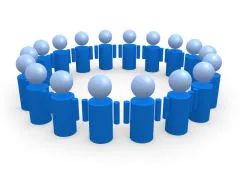 In the professional services industry, no one company can provide everything for every client. The process of properly selecting clients that match with the company's strong suits is critical. MCSi takes this concept very seriously. We have passed on several business opportunities in prior years where there did not appear to be a match between the clients' wishes / needs and MCSi's philosophy. This has led to a strong relationship between the company and its client organizations, eliminating distractions and allowing a focused approach to achieving success in our mission to be a moving force with the claims industry in:
Humanizing The Workers' Compensation System
Philosophy Plus Team = Results
Our specialty is workers' compensation claims administration for self-insured companies and insurance organizations with exposures in Montana.
One jurisdiction, Montana. Few companies in the workers' compensation industry have such a focused approach to the business. We focus our energies on engaging recovering workers, treating the 99% of legitimately injured workers with respect, dignity and open communications. Including our RFP responses, Humanizing The Workers' Compensation System has been the key differentiator as a claims administration company.
By partnering with our self-insured clients geographically (many carve Montana out of their national claims administration agreements), with the accompanying expertise in the ever-changing statutes and case law which control the underlying claims process, in addition to provision of timely, sophisticated reporting and on-going, daily communication, we are able to assist our client organizations to implement nation-leading programs such as Stay At Work / Return To Work programs and advanced loss control efforts. This has led to a demonstrated, significant moderation of client workers' compensation claims costs and in some cases, significantly reducing the amount of average paid claims. Many independent TPA companies "talk the talk". MCSi has a proven track record through:
INVESTIGATION.COMMUNICATION.RESOLUTION. ®
Involvement
The company is a member of and associated with these fine organizations:
National Association of Independent Insurance Adjusters
Affiliated Adjusters, Inc.
Claim Professionals Liability Insurance Company, RRG
Montana Self-Insurance Association
National Council of Self-Insurers
Claims and Litigation Management Alliance ("CLM")
Pacific Claim Executives Association
The company has been recognized by A.M. Best, the leading analyst organization of the insurance industry, as a member of Best's Directory of Recommended Insurance Adjusters. We have continued as one of the Best's Recommended members each year since the 1970′s.
Experience.
Common Sense.
Effective Bi-Directional Communications.
Results.
Leading the industry is not something others might expect from a small company in Montana. But that's what we do for our client partners, lead the industry. Our process of Redefining Best Practices® led in 2011 to the company receiving the 2011 Roche Jaune award for Customer Service Excellence. This award is remarkable as it has never in the history of the award process been given to an insurance-related entity, let alone an independent claims company. Through the spirit, caring, compassion and professionalism of our dedicated staff, others have recognized the contribution that properly handled claims brings to those involved as well as the community.
Ultimately, the success of the company is tied to the success of its client business partners. Lower combined net costs (loss and allocated loss adjustment expenses) for its clients and common sense, respectful treatment of the public during the claims process lead to higher policyholder and claimant satisfaction and decreased ultimate exposures for client companies.
INVESTIGATION.COMMUNICATION.RESOLUTION.®
Redefining Best Practices®
Client Type
Service(s) - Provided Only in Montana
Insurance Companies (located out of state)
Claims investigation and adjusting – Personal and Commercial Property, Liability (including general, professional, personal and excess), Personal and Commercial Auto
Self-Insured Organizations (operating in Montana)
Full workers' compensation program and claims administration
Software and Claim-Oriented Companies
System architecture, User Interface (UI) design, workflow, implementation and conversion consulting services, data system design, implementation, management and consulting services
Legal Firms, Insurance & Self-Insured Organizations
Expert consultation and witness, claim processing design and roll out, mediation / arbitration representation, risk management & risk reduction services, alternate risk financing (insurance, self-insurance, captive, etc)